Cette exposition collective a été organisé dans le but de soutenir le peuple malien dans la crise que le pays traverse.
Sensibilisé lors d'une visite familiale à Bamako au début de l'année, l'artiste Nol a rencontré "Igo" Lassana Diarra, responsable du Centre Culturel Médina afin d'y animer un atelier de dessin.
Des chaleureux échanges avec des artistes et dessinateurs de presse locaux ont ensuite fait germer l'idée d'une action culturelle solidaire en réponse à la détresse de la guerre.
De retour en France le projet avait trouvé rapidement un écho favorable dans la presse, les sites de réseaux sociaux et parmi les amis et collègues sollicités pour l'occasion.
Au total 47 dessinateurs de 14 pays ont répondu généreusement à l'appel en envoyant 158 œuvres publiées de suite dans l'album "Dessins pour le Mali"sur internet*
Une exposition a été programmée en coopération avec Igo et son équipe à Bamako pour la Journée Mondiale de la liberté de la presse le 3 mai.
Un florilège a été présenté le 28 mars à la Mairie du 13e de Paris, lors de la remise du 20e Trophée Presse Citron organisé par l'École Estienne (École supérieure des Arts et Industries graphiques).
La collaboration avec Raphaël Donay, responsable du 4e Salon international de la bd, du dessin d'humour, de presse et de la caricature de Virton

du 24 mai au 2 juin

permet de présenter à nouveau une sélection.
Selon l'intérêt que le sujet pourrait susciter suivant l'actualité, ce programme sera complété par d'autres actions, expositions ou collaborations au Mali, en France et ailleurs.
Nol, responsable de l'action.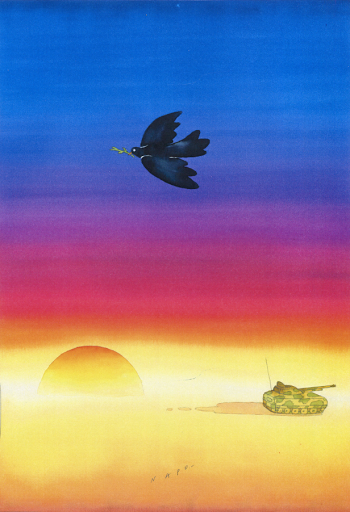 Napo :
Adieu ! Bienvenue ! (Goodbye ! Welcome !)



Premier des 158 dessins pour le Mali




First of the 158 cartoons for Mali




* L'album, qui rassemble les œuvres selon l'origine (française, malienne ou internationale) et la date de réception, est visible sur internet.
* The virtual album, which gathers the works
according to the origin
(French, Malian or international) and
date of reception, is visible on the Web
Voir l'exposition virtuelle de dessins pour le Mali -
See the virtual exhibition of cartoons for Mali
Cartoons for Mali

The group exhibition «Cartoons for Mali» has been organized to support the Malian people in the crises, that the country is going through.
The artist Nol became more sensitive during a family visit in Bamako, when the war broke out at the beginning of the year. Then he met Igo Lassana Diarra, director of the Cultural Center "Médina" in order to conduct a workshop there with local graphic artists and cartoonists.
This friendly cooperation gave rise to the idea of a cultural solidarity action responding to the distress of the war.
Back in France the project had quickly found a favorable echo in the press, the sites of social networks and among the friends and colleagues that were requested for the occasion.
All in all 47 cartoonists of 14 countries replied generously to the call by sending 158 works. This collection was published on the Web Album "Dessins pour le Mali"*
Exhibitions were programmed in Bamako, Paris and Virton ( Belgium) and other initiatives could follow.
Nol, in charge of the action