In 2010:
1* Blaye (33) Citadelle 10-11 April
2* Jonzac (17) Cloître des Carmes: 26 June-11 July
3* St-Georges de Didonne (17) 25th Festival Humour et Eau Salée : 5-8 August
4* Blaye (33) Maison du Vin : 10 August-22 September
5* Paris (75) Maison du Limousin : 31 August- 18 September
6* Jonzac (17) Espace Culturel du Centre Leclerc : 20-30 September
7* St-Just-le-Martel (87) 29e Salon International de la Caricature, du Dessin de Presse et d'Humour :September- 3 October
8* Montlieu-la-Garde (17) Maison de la Forêt : 12 October-3 November
9* St-Sornin (16) 7th Fête du Vin : 23-24 October
In 2011:
10* Cognac (16) Bibliothèque, Printemps des Poètes 8-28 March,
11* Blaye (33) Citadelle : 9-10 April
12* Villenave d'Ornon (33) Bibliothèque de l'Institut de la Science de la Vigne et du
Vin: 23 May-14 June
13* Bordeaux (33) Palais de la Bourse, Symposium International d'œnologie: 15
-17 June
14* Virton (Belgium) 1st Festival du dessin de presse et d'humour : 3-5 June
15* Archiac (17) Maison de la vigne et des Saveurs : 16 30 August
16* St-Just-le-Martel (87) 30e Salon International de la Caricature, du Dessin de Presse et d'Humour : 1-9 October
17* La Rochelle (17) Maison du Département : 18 October-4 November.
18* St-Sornin (16) 8th Fête du Vin : 22-23 October
19* Jonzac (17) Lycée Jean Hyppolite : 14-18 November
In conclusion:
The sole ambition of "Humour et Vigne" is to bring together, every two years, the talents of cartoonists from the four corners of the earth, around a theme that is open to generous interpretation. This festival, in a small town with a modest budget, represents a major investment with benevolent contributions from people who devote their time and energy for the sake of innumerable, friendly exchanges and offer a warm welcome to the artists invited to Jonzac.
The "Humour & Vigne" Team
Programme of the 10th Biennale Humour & Vine : Travelling
From 30 June to 15 July 2012 –
Cloître des Carmes - Jonzac - Charente-Maritime - France
November 2011 : launch of the cartoon competition. Deadline: 1 April 2012.
Saturday 14 April 2012 : selection of cartoons by the jury.
April- May : artists work with school parties during term time and holidays, preparation of the exhibitions, performances and communications (catalogue, poster, humorous wine labels, video, programme etc.)
From 20 to 29 June : installation of exhibitions and preparation of festival.
28 and 29 June : Opening of exhibitions with guided visits for school groups.
From 30 June to 15 July : the exhibition at the 'Cloître des Carmes" open to the public
Inaugural weekend :
Friday 29 June : Reception of artists, presentation of the prizes by the sponsors followed by evening spectacle.
Saturday 30 June : "Salon" of invited cartoonists with book-signing sessions and caricature drawing, celebration of the inauguration of the exhibition, presentation of prizes, events and performances.
Sunday 1st July p.m. : "Salon"of invited cartoonists with book signing sessions and caricature drawings
Sunday 8 July : Exchange mart for wine label collectors
Tuesday 10 July : The acclaimed 'balad'humour'( by coach) an amusing tour through the vineyards.
Sunday 11 July : Closing ceremony and presentation of public prize ( sponsored by Jonzac town).
Presentation of prize for the word-bubble competition (sponsored by the newspaper "La Haute Saintonge").
Napo as shot in 2010 biennial ▼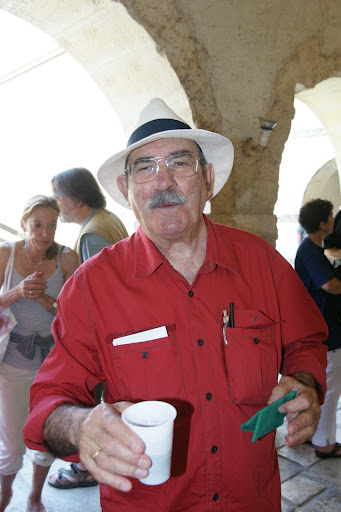 Heir to Hieronymus Bosch and Saul Steinberg, Napo, with his unbridled imagination, transports us through hallucinating, outrageous jungles of passion to discover beauty and truth via a combination of magical humour, tenderness and horror.
Napo is an accomplished colourist who also skilfully holds up a satirical mirror, tinged with poetic wisdom, to ourselves.
Born in Argentina, draughtsman and painter, since the 1960s he has published his work in the press and in albums: in Argentina, Satiricon, La Nacion, Humor, Revista Noticias, TiaVicenta, Centro Editor de America Litana.
During the 1970s he travelled in Europe living first in Italy and then Spain. Since 1976 he has lived in France.
In Italy he has collaborated with Linus and Sergent Kirk. In Spain he has published in La Vanguardia, designed covers for Editions B and illustrated books for the same publishers.
A founder member of Humoristes Associés, his work has been published in Lui, Le Monde, L'Express, Investir, Le Monde Initiatives, Ca m'intéresse, L'Evènement du jeudi, Pif, Télérama, Que Choisir, Le Journal de la Coupole, etc.
He has illustrated books pubished by Nathan, Hachette and Belin in France and designed posters published by Verkerke in the Netherlands. In Germany, he has illustrated games, jigsaw puzzles (on the theme of the Divine Comedy) and calendars published by Heye Verlag.
ADDRESS: Humour & Vigne
BP 43
17502-Jonzac Cedex-France
Tel: 05 46 48 49 29
http://www.chez.com/vignumour02
NEW! Watch the promotion video of Humour & Vigne (5min.) on YOU TUBE.

Look for: http://www.youtube.com/watch?v=sa2bazBdRY8